THIS Avalanche Advisory EXPIRED ON Dec 12, 2019 at 8:16 pm
Avalanche Advisory published on Dec 10, 2019 at 8:16 pm
Issued by Gabe Coler
Bottom Line
A major winter storm will arrive in the region late on Wednesday and result in an increase in avalanche danger for Thursday.
Avalanche Character 1: Wind Slab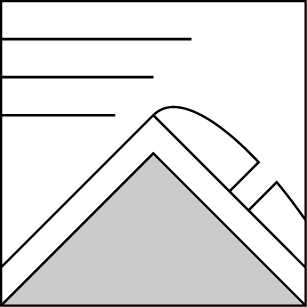 Although we may see some very shallow wind slabs on Wednesday, they are likely to grow substantially by Thursday due to the stormier weather. Wind slabs form at and above treeline on leeward slopes and particularly below ridge lines. A good number to keep in mind is that wind deposited snow may be 3 - 5 times as deep as the new snow is in sheltered areas.
Avalanche Character 2: Storm Slab
Snowpack Discussion
Its been SHALLOW and warm! After a little snow last weekend and warm days in between, snow depths continue to be in the 30 - 45 cm. range. With lots of new snow on the way, I'll be focusing my observations, and looking for instabilities in this new snow.
Recent Observations
There have been no recent reports of avalanches. The snowpack has been quite shallow and the temperatures relatively warm.
Mountain Weather
An inch or two of snow overnight tonight will soften up groomers but won't do enough to mitigate our current "low tide" hazards (rocks and stumps). Hopefully things are looking up though as the next system arrives late on Wednesday bringing significant snow overnight and throughout the day Thursday. Temperatures are looking to be relatively warm on Thursday with snow levels around 5000 ft. My fingers are crossed that it remains all snow in the ski terrain. The wind will be from the Southwest and West and gradually ramping up to strong on Thursday.
Disclaimer
This snowpack summary applies only to backcountry areas. Click here for a map of the area. This snowpack summary describes general avalanche conditions and local variations always occur. This snowpack summary expires in 48 hours unless otherwise noted.
For all your pre and après ski needs, answers to questions, event calendars, restaurant recommendations, where to stay, and all things Bend....
www.visitbend.com