THIS Avalanche Advisory EXPIRED ON Dec 15, 2019 at 10:32 pm
Avalanche Advisory published on Dec 13, 2019 at 10:32 pm
Issued by Aaron Hartz
Bottom Line
The most recent storm has covered some of the logs, snags, and rocks. Things are looking up here in central Oregon, but still be cautious of those early season terrain hazards. On Friday, the powder skiing/riding was good. For those people venturing into the high country over the next few days, be cautious of lee slopes and wind slab avalanche potential.
Avalanche Character 1: Wind Slab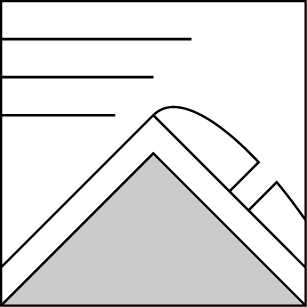 The windslab avalanche problem may be found in isolated areas in high alpine and near treeline terrain on north, east, and SE facing slopes. The windslab problem will not be everywhere. Look for signs of wind deposited snow as a clue for where this problem lies. If you see recent wind deposited snow, be cautious in avalanche terrain (slopes steeper than 30 degrees). If you find wind deposited snow, it will be possible to trigger a wind slab avalanche, although the likelihood of triggering a wind slab will decrease over the next few days.
Snowpack Discussion
The height of snowpack was greatly increased with the last storm. Above 6000 ft, we now have 60 cm (2 ft) + snow on the ground. According to recent reports the snow pack is mostly right side up, which means the less dense snow is in the upper portion of the pack.
Recent Observations
There have been no reports of avalanche activity or recent reports of unstable snow. There have been very few reports in general.
Mountain Weather
As of Friday afternoon/evening the storm is tapering off and snowfall is on back order. The forecast for the next few days are for more fair weather, if you are into that sort of thing. Wind will be light and predominately out of the west and shifting to NW and SW. Look for cold daytime highs in the low to mid 20's Fahrenheit over the next few days.
Disclaimer
This snowpack summary applies only to backcountry areas. Click here for a map of the area. This snowpack summary describes general avalanche conditions and local variations always occur. This snowpack summary expires in 48 hours unless otherwise noted.
For all your pre and après ski needs, answers to questions, event calendars, restaurant recommendations, where to stay, and all things Bend....
www.visitbend.com