THIS Avalanche Advisory EXPIRED ON Jan 9, 2020 at 8:18 pm
Avalanche Advisory published on Jan 7, 2020 at 8:18 pm
Issued by Aaron Hartz
Bottom Line
New snow is on the way. We can expect new windslabs to be forming during and after the storm as long as snow is available for wind transport. I am taking persistent slab off the list at the present time. There are still several layers in the snowpack containing persistent type grains that we will continue to monitor, but avalanches are not currently expected on these layers.
Avalanche Character 1: Wind Slab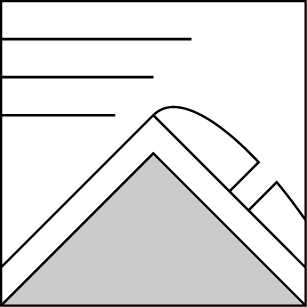 New windslabs will be forming on easterly aspects near treeline and above treeline. Look for wind deposited snow below ridge tops and high points, and in areas where the terrain catches wind transported snow. Windslabs will be most sensitive to triggering in the 24 to 48 hours after they are formed. Triggering a windslab will be possible to likely over the next day or two in the right terrain with potential for size D1 to D2 avalanches.
Avalanche Character 2: Storm Slab
(1/8 edit): Watch for storm slabs forming on all aspects and elevations on slopes that have not been wind scoured. If you see the new storm snow exhibiting some cohesion, avoid steep and convex terrain. Storm slabs could release at the new snow/old snow interface or within the new storm snow. Triggering a storm slab avalanche will be possible over the next 24 to 48 hours.
Snowpack Discussion
In many areas, we are still finding rounding basal facets at or near the base of the snowpack, but they are not found everywhere. Isolated buried surface hoar has been found in two separate layers in the mid snowpack on north and east aspects (the upper layer primarily in the Todd Ridge and surrounding area). Crust/facet combos have been found in the upper pack in near treeline and above treeline terrain. Approximately 20cm has fallen since the weekend. Widespread surface crust as of 1/7.
Recent Observations
An observer reported a previous windslab avalanche in the Tumalo bowl (East aspect; 7700ft). Size D1 (too small to bury, injure, or kill). It was estimated to have been triggered naturally on Monday. No other recent avalanche activity has been reported.
Mountain Weather
New snow is expected Tuesday night and into Wednesday. We could see up to around 10" of new snow by the end of Wednesday. Things are cooling down and high temperatures will be in the mid to low 20's over the next few days. Wind is expected to be light to moderate and primarily out of the SW, W, and NW.
Disclaimer
This snowpack summary applies only to backcountry areas. Click here for a map of the area. This snowpack summary describes general avalanche conditions and local variations always occur. This snowpack summary expires in 48 hours unless otherwise noted.
For all your pre and après ski needs, answers to questions, event calendars, restaurant recommendations, where to stay, and all things Bend....
www.visitbend.com