THIS Avalanche Advisory EXPIRED ON Jan 16, 2020 at 8:52 pm
Avalanche Advisory published on Jan 14, 2020 at 8:52 pm
Issued by Aaron Hartz
Bottom Line
Wow, what a storm. We all were asking for powder and we got it. It was great to hear many people mention conservative decision making over the last few days. Windslabs will continue to be something to watch for in the near future. Storm slabs were reported as sensitive to triggering on Tuesday and could still be a concern for another day or two. Make cautious decisions in and around avalanche terrain over the next few days.
Avalanche Character 1: Wind Slab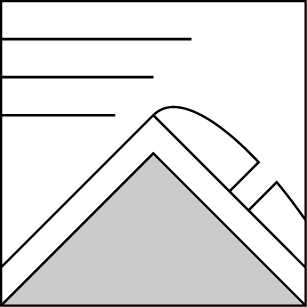 New windslabs will be forming as long as there is soft snow on the ground and enough wind to move it. Windslabs currently exist or will be building on lee slopes, primarily on NW-E-SE aspects near treeline and above treeline but could be found elsewhere in the terrain. Look for wind deposited snow below ridge tops and high points, and in areas where the terrain catches wind transported snow. Triggering a windslab avalanche will be possible to likely over the next few days. Resulting avalanches could range from small to large (D1-D2).
Avalanche Character 2: Storm Slab
Storm slabs were reported as sensitive to triggering on Tuesday. Multiple mid-storm instabilities may exist in the mid to upper pack. Although the storm snow will continue to sort itself out in the coming days, it is still possible to trigger a storm slab avalanche. Be especially cautious if you see cracking in the upper storm snow as you ski over rollers. If you see signs of unstable snow, avoid steep, convex and committing terrain. In the right terrain, storm slab avalanches will have the potential to be small to large (D1-D2). Watch for storm slabs on all aspects and elevations except for slopes heavily affected by wind.
Snowpack Discussion
The new snow over the last week now seems to be mostly right side up, however multiple mid storm instabilities may exist. The storm finished off cold with light snow on top, however I heard from several people there was slab formation in the upper 30-40cm of snow on Tuesday. With limited observations from near treeline and above treeline, I can only speculate that there is a high degree of wind effect on snow in the upper elevations.
Recent Observations
Human triggered windslab and storm slab avalanches throughout the region have been reported on COAC, social media, and through personal communication. I have not heard of any reports of people being caught or carried during the recent storm cycle.
Mountain Weather
The storm is tapering off and we will see a short break in snowfall. We could see a few inches of new snow Wednesday and Thursday. The low temperature is expected to drop into single digits Tuesday night followed by warming into the teens and 20's Wednesday and Thursday. Wind is expected to be light to moderate and range out of the NW-W-SW-S-SE over the next few days.
Disclaimer
This snowpack summary applies only to backcountry areas. Click here for a map of the area. This snowpack summary describes general avalanche conditions and local variations always occur. This snowpack summary expires in 48 hours unless otherwise noted.
For all your pre and après ski needs, answers to questions, event calendars, restaurant recommendations, where to stay, and all things Bend....
www.visitbend.com