THIS Avalanche Advisory EXPIRED ON Feb 9, 2020 at 8:22 pm
Avalanche Advisory published on Feb 7, 2020 at 8:22 pm
Issued by Jonas Tarlen
Bottom Line
4-8" of new snow is expected Friday night through Saturday with strong west winds and cold temperatures. This new snow will be easily transported. Watch for windslabs building on lee slopes.
Avalanche Character 1: Wind Slab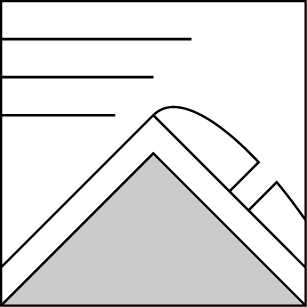 Windslabs will build primarily on on NE-E-SE aspects near treeline and above treeline. Look for wind deposited snow below ridge tops and around other features that catch wind transported snow. The current surface snow is a crust. Use this as a reference to gauge how much wind transported snow has piled up.
Avalanche Character 2: Loose Wet
Snowpack Discussion
This week has produced warm temps, some rain, and very little snow. Surface conditions are mostly a supportable melt / freeze crust. We will have to evaluate how the expected new snow bonds to the existing surface snow.

Persistent weak layers are difficult to find in our snowpack. There are very small, rounding near crust facets within the top 20cm and there were some rounded base facets found at Paulina. In general our snowpack is strong and my main focus will be in the upper snowpack with new wind loading.
Recent Observations
There have been no recent avalanches reported in the past week. There have been no signs of instability reported in past week.
Mountain Weather
A strong cold front will arrive Friday nt bringing 4-8" of snow, freezing levels dropping down to 2000' with strong West winds. This front will quickly move out Sunday and freezing levels will shoot back up to 8000' on Monday with sunshine.
Disclaimer
This snowpack summary applies only to backcountry areas. Click here for a map of the area. This snowpack summary describes general avalanche conditions and local variations always occur. This snowpack summary expires in 48 hours unless otherwise noted.
For all your pre and après ski needs, answers to questions, event calendars, restaurant recommendations, where to stay, and all things Bend....
www.visitbend.com