THIS Avalanche Advisory EXPIRED ON Feb 23, 2020 at 7:32 pm
Avalanche Advisory published on Feb 22, 2020 at 7:32 pm
Issued by Gabe Coler
Bottom Line
Sunday will bring a return of winter weather, and appropriately our avalanche character will shift back to wind slabs. The danger will increase throughout the day in proportion to how much new snow we've received.
Avalanche Character 1: Wind Slab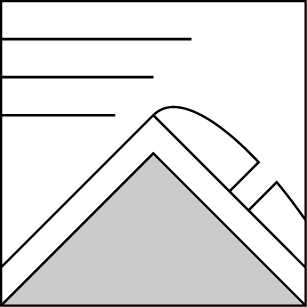 A forecast for new snow and strong West winds, means wind slabs will grow throughout the day. Watch for this problem on east slopes at and above treeline. Avalanche hazard will be tied directly to how much snow has fallen. The more snow we get, the deeper the wind slabs could be. While there is not a ton of snow in the forecast, it is worth evaluating snow and terrain carefully to identify features of concern.
Snowpack Discussion
The new snow will be falling on a variety of old snow surfaces. Cold, shady slopes (North faces) continue to have near surface facets and pockets of surface hoar.
Recent Observations
There have been no recent reports of avalanche activity
Mountain Weather
Winter again! Sunday will hopefully bring a few inches of new snow. The high temperature will be just below or at freezing by mid morning and then will fall throughout the day. The wind will be predominantly from the West and Northwest and will be strong.
Disclaimer
This snowpack summary applies only to backcountry areas. Click here for a map of the area. This snowpack summary describes general avalanche conditions and local variations always occur. This snowpack summary expires in 48 hours unless otherwise noted.
For all your pre and après ski needs, answers to questions, event calendars, restaurant recommendations, where to stay, and all things Bend....
www.visitbend.com