THIS Avalanche Advisory EXPIRED ON Feb 27, 2020 at 8:05 pm
Avalanche Advisory published on Feb 25, 2020 at 8:05 pm
Issued by Gabe Coler
Bottom Line
Any avalanche activity during the next few days will be associated with the warm sunny days. Avalanche hazard will increase as the day heats up (particularly on Thursday, which is forecast to be warmer). Thinking about what aspect you're planning to ski at what time of day is the best recipe to find soft snow safely.
Avalanche Character 1: Loose Wet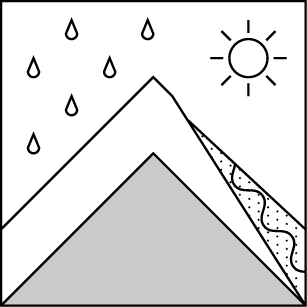 Loose Wet Avalanches are point release avalanches that occur as sun and warm temperature melt the snow surface. The problem is generally most prevalent on steep sunny slopes. Watch for terrain traps where even a relatively small slide could have bigger consequences. Thursday is forecast to be warmer and a bit sunnier so the likelihood of Loose Wet Avalanches will be higher then.
Snowpack Discussion
After two days of warm temperatures and sunny skies, most slopes that don't face due North have had melting surface snow and then been refreezing over night. There are currently no persistent weak layers buried in our snow pack, and all instabilities are related to daytime warming.
Recent Observations
I haven't seen any reports of avalanche activity since Sundays new snow.
Mountain Weather
It sure feels like spring (I'm not sure I'm ready!). There will be continued high pressure Wednesday and Thursday. Wednesday will be a bit cooler with mountain highs perhaps reaching into the upper 30's F and maybe only a few clouds. Thursday is forecast to be sunny with high temperatures in the mid 40's. On Wednesday the wind will be from the West. The wind forecast for Thursday is light and variable.
Disclaimer
This snowpack summary applies only to backcountry areas. Click here for a map of the area. This snowpack summary describes general avalanche conditions and local variations always occur. This snowpack summary expires in 48 hours unless otherwise noted.
For all your pre and après ski needs, answers to questions, event calendars, restaurant recommendations, where to stay, and all things Bend....
www.visitbend.com