THIS Avalanche Advisory EXPIRED ON Mar 1, 2020 at 7:59 pm
Avalanche Advisory published on Feb 28, 2020 at 7:59 pm
Issued by Gabe Coler
Bottom Line
Limited snow overnight and into Saturday means that any avalanches will be small wind slabs. Still, don't be caught off guard by lee slopes that have a large fetch or area to draw blowing snow from.
Avalanche Character 1: Wind Slab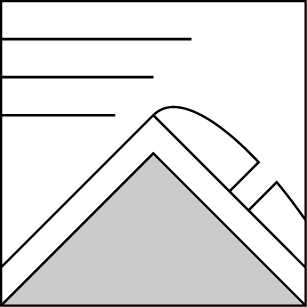 Various forecasts aren't calling for more than a few inches of snow. This means that any potential wind slabs will be relatively shallow. Be wary not to be caught off guard by slopes that may have a large fetch (the area that snow is blowing from). With the wind from the West and then North West expect this problem to exist on East and South East slopes at and above treeline.
Snowpack Discussion
After our last few days of warm weather, and cold nights... more crust. Hopefully we'll get enough new snow overnight that we won't be scraping around too much. We don't have any persistent weak layers buried in our snow pack.
Recent Observations
While the last few days were very warm, I didn't hear any reports of significant loose wet avalanches.
Mountain Weather
This weekend will usher in a pleasant return to winter weather. Expect some new snow by tomorrow morning and throughout the day tomorrow. Unfortunately, forecast storm totals have been revised downwards recently, and I'll be psyched if we get a couple inches. The temperature will be much more seasonable with highs in the mid 20's F. It'll be Moderately windy overnight and into Saturday, but then calming down somewhat into Sunday. The wind will be from the West through Saturday and then shifting to the North-West.
Disclaimer
This snowpack summary applies only to backcountry areas. Click here for a map of the area. This snowpack summary describes general avalanche conditions and local variations always occur. This snowpack summary expires in 48 hours unless otherwise noted.
For all your pre and après ski needs, answers to questions, event calendars, restaurant recommendations, where to stay, and all things Bend....
www.visitbend.com