THIS Avalanche Advisory EXPIRED ON Mar 22, 2020 at 8:34 pm
Avalanche Advisory published on Mar 20, 2020 at 8:34 pm
Issued by Aaron Hartz
Bottom Line
Loose wet avalanches will be the primary concern over the weekend. This will be a timing issue. If you see loose wet avalanche activity, roller balls, and/or the surface snow becoming wet, move to more shaded slopes and avoid consequential terrain.
Avalanche Character 1: Loose Wet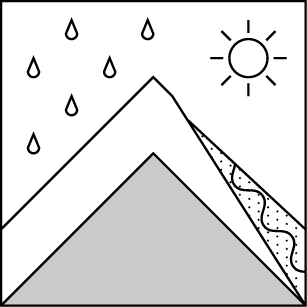 Loose wet avalanches will be small, and the likelihood will be greatest when slopes have direct sun exposure during the warmest part of the day. Even small avalanches can have big consequence in steep and committing terrain. Watch for loose wet avalanches at all elevations, and on steep SE, S, and W aspects.
Snowpack Discussion
The condition of the surface snow varies widely. Currently melt freeze crust, old wind transported snow, preserved powder, and breakable crust can be found throughout the region. Patches of surface hoar have been observed from below treeline into the alpine. Overall, the snowpack is settled and strong; no weak layers of concern have been reported recently.
Recent Observations
There have been no reports of avalanche activity since the last advisory and no reports unstable snow .
Mountain Weather
The daytime high temperature is expected to be in the upper 30's to low 40's Fahrenheit over the weekend along with a mostly sunny sky. The wind is expected to be mostly light with occasional moderate gusts and shifting through the west, north, and east and south over the weekend.
Disclaimer
This snowpack summary applies only to backcountry areas. Click here for a map of the area. This snowpack summary describes general avalanche conditions and local variations always occur. This snowpack summary expires in 48 hours unless otherwise noted.
For all your pre and après ski needs, answers to questions, event calendars, restaurant recommendations, where to stay, and all things Bend....
www.visitbend.com