THIS Avalanche Advisory EXPIRED ON Mar 29, 2020 at 6:47 pm
Avalanche Advisory published on Mar 27, 2020 at 6:47 pm
Issued by Aaron Hartz
Bottom Line
Watch for shallow windslabs forming on easterly aspects near treeline and above treeline. Although likely to be small, triggering a windslab could have consequence in steep or committing terrain.
Avalanche Character 1: Wind Slab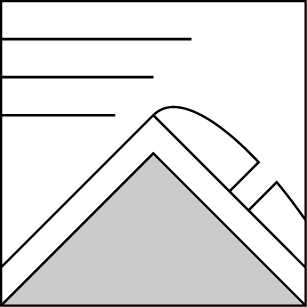 New windslab formation will depend on the new incoming snow and wind. I expect any new windslabs to be shallow and resulting avalanches to be small (D1). Watch for new and reactive windslabs on easterly aspects, near treeline and above treeline. These typically form below ridgetops and around other features that catch blowing snow. Windslabs forming over loose snow could be particularly sensitive to triggering and could run fast. Windslabs from the previous storm will become stubborn to non-reactive.
Snowpack Discussion
The 15-20 cm of new snow from the last week has been reported to be bonding well to the old melt freeze crust. Solar aspects below treeline have a breakable crust on the surface. Faceted snow has been found in the Paulina zone, down 40cm. In the Sisters area, below the recent storm snow the snowpack is generally settled and strong.
Recent Observations
There have been numerous small size D1 loose snow avalanches; natural and skier triggered reported from south, east, and north aspects. Several small D1 natural and skier triggered windslabs have been reported from east and north aspects.
Mountain Weather
Going into the weekend we will likely see a cloudy sky and the potential for a few inches of new snow on Saturday and Sunday. The wind is expected to be SW-W-NW and light with moderate gusts. The daytime high temperatures will be riding the freezing line (+/-) at lower and mid elevations.
Disclaimer
This snowpack summary applies only to backcountry areas. Click here for a map of the area. This snowpack summary describes general avalanche conditions and local variations always occur. This snowpack summary expires in 48 hours unless otherwise noted.
For all your pre and après ski needs, answers to questions, event calendars, restaurant recommendations, where to stay, and all things Bend....
www.visitbend.com