THIS Avalanche Advisory EXPIRED ON Apr 20, 2020 at 1:17 pm
Avalanche Advisory published on Mar 30, 2020 at 5:17 pm
Issued by Aaron Hartz
Bottom Line
We are ending operations early this year. Due to the impacts of COVID-19, the Deschutes National Forest has closed all developed recreation sites including snoparks. This restriction makes it nearly impossible for our field team to conduct snowpack observations and subsequently, publish advisories. Similarly, we urge the public to comply with these closures. On a different note, thanks for another great season! COAC exists because the community supports it. Thank you to our many members, donors, local businesses, and industry partners who have supported our organization. We look forward to seeing you at the annual Bend Snow and Avalanche Workshop in November. The observer and forecast team will be back in action starting Dec. 1. -Aaron and Gabe
Avalanche Character 1: Normal Caution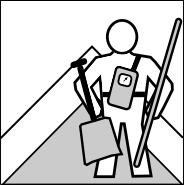 We often enjoy good stable spring conditions in Central Oregon, however there are still things to watch for. We can have winter-like storms well into early summer. When that happens we often see winter-like avalanche problems. If we receive new snow, watch for windslabs on lee slopes and features that become cross loaded. Storm slabs can become an issue if we get significant snowfall (think 8" or more). If you are unsure of the stability, give the new snow a couple of days to settle and bond. Warm sunny weather following a snow storm can bring about a wet slab problem and loose wet avalanches can be larger than normal. On the warm sunny days, travel when the snow surface is colder and stronger. Plan your days to avoid crossing on or under very steep slopes in the afternoon. Move to colder, shadier slopes once the snow surface turns slushy. If you see rollerballs, and/or the snow is becoming slushy, avoid steep, sunlit slopes above terrain traps and cliffs areas. Remember, if you observe signs of unstable snow or if you have increased uncertainty surrounding your day, adjust your terrain strategy and move to lower angle and/or less complex terrain. Always make sure everyone in your group carries a beacon, shovel, and probe and knows how to use it.
Disclaimer
This snowpack summary applies only to backcountry areas. Click here for a map of the area. This snowpack summary describes general avalanche conditions and local variations always occur. This snowpack summary expires in 48 hours unless otherwise noted.
For all your pre and après ski needs, answers to questions, event calendars, restaurant recommendations, where to stay, and all things Bend....
www.visitbend.com