Snowpack Summary for 1/9/2018
THIS SNOWPACK SUMMARY EXPIRED ON January 11, 2018 @ 11:07 pm
Snowpack Summary published on January 9, 2018 @ 11:07 pm
Issued by Aaron Hartz
bottom line:
We have experienced a stable snowpack over the last two weeks. As we move into Thursday with the chance of significant snow accumulation we could experience surface instability in the form of wind slabs. Even a few inches of new snow can be enough to form wind slabs up to half a foot thick or more. The wind slabs will be specific to lee slopes near and above treeline. Look for visual clues as to where the wind slabs have formed. They will not be everywhere so look for wind affected snow and consider avoiding wind slabs on steep slopes (over 30 degrees) when they are fresh (1 or two days old).
Avalanche Character 1: Wind Slab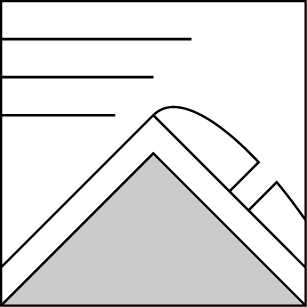 Wind Slab avalanches release naturally during wind events and can be triggered for up to a week after a wind event. They form in lee and cross-loaded terrain features. Avoid them by sticking to wind sheltered or wind scoured areas.
Look for new wind slab formation on north through east aspects near treeline and above treeline over the next few days. Wind loading of snow will occur on the lee slopes below ridge tops and high points in the terrain. Also, watch for wind drifts that have cross loaded onto other aspects and terrain features.
The extend of the wind slabs will depend on the amount of new snow that falls in the Central Oregon mountains.
Avalanche Character 2: Storm Slab
Storm Slab avalanches release naturally during snow storms and can be triggered for a few days after a storm. They often release at or below the trigger point. They exist throughout the terrain. Avoid them by waiting for the storm snow to stabilize.
If the forecast snow accumulations of 7-11 inches comes through on Thursday, storm slabs will likely be present on all aspects/elevations except where snow has been scoured.
Avalanche Character 3: Loose Wet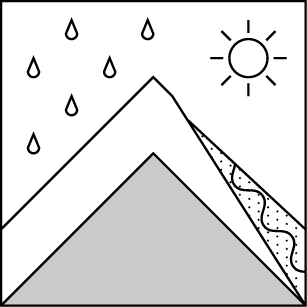 Loose Wet avalanches occur when water is running through the snowpack, and release at or below the trigger point. Avoid very steep slopes and terrain traps such as cliffs, gullies, or tree wells. Exit avalanche terrain when you see pinwheels, roller balls, a slushy surface, or during rain-on-snow events.
If forecast rising air temperature brings rain to lower elevations, loose wet avalanches can be expected below treeline. With significant rain (1" or more) wet slabs may also be a problem.
Snowpack Discussion
Currently, the upper snowpack consists of several crust/soft snow layer combinations.
The old rounding facet layer is still very noticeable in the snow pack and can be found 30-50 cm below the surface. The rounding facet layer has been trending toward gaining strength. Below that, is the Thanksgiving rain crust and a mostly strong lower snowpack.
recent observations
There have been no recent observations of avalanche activity.
weather
The Central Oregon mountains will most likely receive some new snow over the next few days, with the bulk of the accumulation coming on Thursday. Through Wednesday, snow accumulation will be limited to several inches. Legit powder riding conditions are a possibility for Thursday and we could see a half foot to 10 inches of new snow by Thursday night. Wind in the mountains is forecast to be out of the west and southwest.
Disclaimer
This snowpack summary applies only to backcountry areas. Click here for a map of the area. This snowpack summary describes general avalanche conditions and local variations always occur. This snowpack summary expires in 48 hours unless otherwise noted.
For all your pre and après ski needs, answers to questions, event calendars, restaurant recommendations, where to stay, and all things Bend....
www.visitbend.com