THIS Avalanche Advisory EXPIRED ON Feb 6, 2020 at 7:54 pm
Avalanche Advisory published on Feb 4, 2020 at 7:54 pm
Issued by Aaron Hartz
Bottom Line
If you travel in the near treeline and above treeline elevation zones, use caution on lee slopes in avalanche terrain. Windslabs will be the primary concern and although resulting avalanches will likely be small, there could be consequence in committing terrain.
Avalanche Character 1: Wind Slab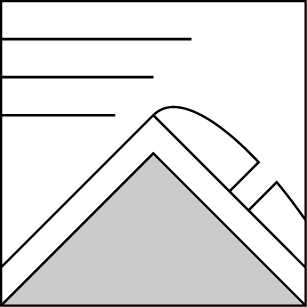 Windslabs will build primarily on on NE-E-SE aspects near treeline and above treeline. Windslabs will not be widespread, but in specific locations. Look for wind deposited snow below ridge tops and around other features that catch wind transported snow. Human triggered windslab avalanches will be likely in the right terrain, although resulting avalanches will mostly be on the small side (D1-D1.5). If new snow accumulation exceeds expectations, these could become larger.
Avalanche Character 2: Loose Wet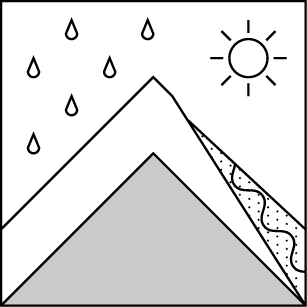 This one will depend a lot on the weather conditions on Wednesday and Thursday. If we see rain (more likely on on Thursday) we could have possible human triggered, small loose wet avalanches below treeline on all aspects. If the high temperature does not rise above freezing and/or we don't get any rain on snow, loose wet avalanches will not be a problem.
Snowpack Discussion
The upper and mid pack are generally showing good structure and are right side up. We have no new observations from the deep pack in the Sisters area.
The upper pack is a mix of melt freeze crusts, rain crusts, and intermittent layers of decomposing and/or rounded grains. The recent 5-10 cm of storm snow landed on a rain or melt freeze crust created last weekend.

In the Paulina Peak zone, weak rounded faceted snow was reported to still be near the base of the snowpack.
Recent Observations
Very little avalanche activity has been reported in the last 4 days. Very small windslabs were skier triggered near the top of the Tumalo bowl (east aspect, near treeline).
Mountain Weather
Snow is on the way. We could see several inches on new snow on Wednesday and maybe a few more through Thursday. The daytime high temperature will creep up to near or just above freezing. Wind is expected to be light to moderate and mostly out of the southwest, west and northwest.
Disclaimer
This snowpack summary applies only to backcountry areas. Click here for a map of the area. This snowpack summary describes general avalanche conditions and local variations always occur. This snowpack summary expires in 48 hours unless otherwise noted.
For all your pre and après ski needs, answers to questions, event calendars, restaurant recommendations, where to stay, and all things Bend....
www.visitbend.com