THIS Avalanche Advisory EXPIRED ON Feb 16, 2020 at 4:57 pm
Avalanche Advisory published on Feb 14, 2020 at 4:57 pm
Issued by Aaron Hartz
Bottom Line
As the storm kicks in and begins delivering snow, windslab avalanches will become the primary concern for the weekend. If you see signs of unstable snow, such as cracking or recent avalanches, in wind transported snow or new storm snow, stick to low angle terrain.
Avalanche Character 1: Wind Slab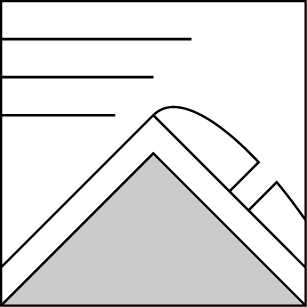 As the snow accumulation begins to add up on Saturday and into Sunday, windslabs will likely build on lee terrain features near treeline and above treeline. Watch for signs of wind transported snow building on easterly facing slopes below ridge tops, high points, and other features that catch wind blown snow. They will not be everywhere, but if you find a windslab, they could be likely to trigger through Sunday with sizes varying from small to large.
Avalanche Character 2: Storm Slab
There is potential for a storm slab to form up, but we will need to see how the new snow comes in. If the new snow is exhibiting some cohesion (i.e. snow is sticking together to form a slab) and/or the new snow is not bonding with the old snow there could be a storm slab problem. Sings that indicate unstable storm snow include, cracking on rollovers, and recent skier triggered and natural avalanches. If you see these signs, that is a good indicator that human triggered avalanches are possible or likely. If the snow is lacking cohesion, there could be potential for small dry loose slides in steep terrain.
Snowpack Discussion
The upper meter of snowpack is a mix of crust/old snow combinations, rounding snow, decomposing snow, melt freeze crusts, and rain crusts. Some near crust facets have been reported in the upper 30cm of the pack.
Recent Observations
A small isolated wind slab was skier triggered at Ball Butte on Friday; size D1, NE aspect, ~7700ft. No other recent avalanche activity has been reported.
Mountain Weather
A short lived storm is expected to kick in sometime Saturday and lay down some fresh snow. By Sunday morning we could see around a foot of new snow, give or take. before the storm tapers off. Wind is expected to be westerly and light to moderate. Daytime highs are expected to be in the mid to upper 20's (maybe low 30's) Fahrenheit.
Disclaimer
This snowpack summary applies only to backcountry areas. Click here for a map of the area. This snowpack summary describes general avalanche conditions and local variations always occur. This snowpack summary expires in 48 hours unless otherwise noted.
For all your pre and après ski needs, answers to questions, event calendars, restaurant recommendations, where to stay, and all things Bend....
www.visitbend.com