THIS Avalanche Advisory EXPIRED ON Feb 22, 2020 at 7:52 pm
Avalanche Advisory published on Feb 21, 2020 at 7:52 pm
Issued by Gabe Coler
Bottom Line
Saturday will be a repeat of the last few days. Avalanches will be confined to the sunniest slopes and will be small.
Avalanche Character 1: Loose Wet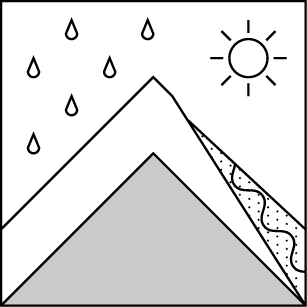 With mountain temperatures rising into the upper 30's F and a forecast of mostly sunny, the surface snow on south faces will begin to melt. While that may be what you're looking for to find some soft turns, be wary if this melting starts to extend deeper into the snow-pack. I expect these avalanches to be small and limited to the sunniest terrain.
Snowpack Discussion
We haven't had any recent snow. Recent observations haven't noted any persistent weak layers beneath the surface. Shady slopes continue to have weak surface snow in the form of near surface facets, and pockets of surface hoar. Fun to ski now, but something to watch as new snow is likely to fall on Sunday.
Recent Observations
There hasn't been any avalanche activity reported in the last few days.
Mountain Weather
Expect Saturday's weather to be similar to today. Mostly sunny with mountain high temperatures forecast to reach the upper 30's F. The wind will be light from the West.
Disclaimer
This snowpack summary applies only to backcountry areas. Click here for a map of the area. This snowpack summary describes general avalanche conditions and local variations always occur. This snowpack summary expires in 48 hours unless otherwise noted.
For all your pre and après ski needs, answers to questions, event calendars, restaurant recommendations, where to stay, and all things Bend....
www.visitbend.com