THIS Avalanche Advisory EXPIRED ON Jan 12, 2020 at 10:36 pm
Avalanche Advisory published on Jan 10, 2020 at 10:36 pm
Issued by Aaron Hartz
Bottom Line
New snow is on the way through the weekend. That is an understatement and lets just say new snow will be measured in feet and not inches. Expect avalanche danger to increase over the next few days. Storm slabs and wind slabs will be building rapidly throughout the region. With high levels of snow accumulation expected, it would be wise to give the snowpack time to adjust before dropping into steep slopes. Travelling in avalanche terrain is not recommended over the next few days. If you travel in the backcountry, stay on slopes less than 30 degrees steep and out from under any steep slopes.
Avalanche Character 1: Wind Slab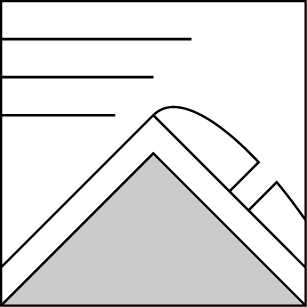 Windslabs will be building on lee slopes, primarily on NE-E-SE aspects near treeline and above treeline but could form elsewhere in the terrain. Look for wind deposited snow below ridge tops and high points, and in areas where the terrain catches wind transported snow. Triggering a windslab avalanche will be likely to very likely over the next few days. Resulting avalanches could be large.
Avalanche Character 2: Storm Slab
Watch for storm slabs forming on all aspects and elevations. Storm slabs could release at the new snow/old snow interface or within the new storm snow. Triggering a storm slab avalanche will be very likely, especially in steep, convex, and unsupported terrain. Storm slab avalanches could be large enough to bury injure, or kill.
Snowpack Discussion
Rounding basal facets are still found in many places at or near the ground. A crust facet (rounding) combo can be found in mid pack.
Isolated buried surface hoar (rounding) has been found in the lower pack on N and E aspects. The storm from Jan 7-8 dropped approximately 30cm of storm snow on top of a rain crust. As of 1/10, aside from intermittent weak layers, the snowpack is showing good right side up qualities.

Recent Observations
A skier triggered avalanche was reported from the Tumalo bowl (approx 7700ft, easterly aspect) on Wednesday; size and type not reported.
Mountain Weather
Several feet or more of new snow could accumulate in the mountains through the weekend. Air temperature is expected to remain the in the 20's F. Wind is expected to range from light, to moderate, to strong. and primarily out of the SW-W-NW.
Disclaimer
This snowpack summary applies only to backcountry areas. Click here for a map of the area. This snowpack summary describes general avalanche conditions and local variations always occur. This snowpack summary expires in 48 hours unless otherwise noted.
For all your pre and après ski needs, answers to questions, event calendars, restaurant recommendations, where to stay, and all things Bend....
www.visitbend.com