THIS Avalanche Advisory EXPIRED ON Feb 20, 2020 at 9:10 pm
Avalanche Advisory published on Feb 18, 2020 at 9:10 pm
Issued by Aaron Hartz
Bottom Line
The previous storm snow and windslabs have had a few days to settle in. Watch for loose wet avalanches on sun exposed slopes. I expect people will be venturing into the high country to get after the steep alpine lines in the coming days. If you see roller balls or natural loose wet slides, think twice before dropping into committing terrain. Remember, small slides in big terrain can have consequence. There could also be some lingering pockets of windslab in high alpine terrain.
Avalanche Character 1: Loose Wet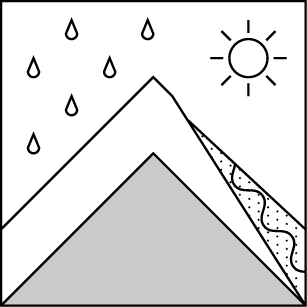 This will be a timing issue. Steep slopes in the direct sun, especially during the warmest time of day, will have the highest likelihood for triggering loose wet avalanches. These may not be large in terms of destructive potential, but they can knock you off your feet in steep terrain. Use visual clues, and timing to decrease your exposure to the loose wet problem. Watch for these at all elevations and on SE-S-W aspects as the sun moves around the compass throughout the day.
Avalanche Character 2: Wind Slab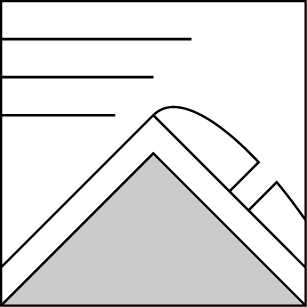 Windslabs will become increasingly stubborn and less likely to trigger, however there could be lingering pockets as well some some new wind transport in the high alpine terrain. Triggering a windslab in the near future will probably result in small avalanches, but could also have big consequence in steep and committing terrain. Look for isolated pockets of windslab on all aspects above treeline.
Snowpack Discussion
The upper pack varies quite a lot depending on how slopes were wind loaded or scoured. Some wind exposed slopes/ridges have been scoured to the most recent rain crust, while other areas have up to 50 cm or more of wind deposited snow over the crust. Below the most recent crust are multiple crust/old snow combos. Weak faceted snow has been found near crusts in the upper pack. In the sisters area, no recent observations from the mid or deep pack have come in, but are presumed to be strong.
Recent Observations
There has been some avalanche activity across the region in recent days. On Sunday, a skier triggered cornice break subsequently triggered a small windslab avalanche in the Tumalo bowl (easterly aspect, 7700ft). The skier fell with the cornice and went for a short ride with the slab/debris. No injury was reported. Also on Sunday, a pair of splitboarders reported seeing small loose dry avalanches before triggering a small slab avalanche on a NE aspect in a clearing below treeline (10" crown and 100' wide.) It was reported to run on the rain crust under the recent storm snow. No injury was reported. On Monday, a previous avalanche was observed on Black Crater on a steep NE facing slope (start zone at 6300', size was reported as D2 - large enough to bury, unjure, or kill).
Mountain Weather
For the most part, we are looking to be high and dry over the next few days. We can expect sunny or partly cloudy conditions and no precipitation is expected. Daytime high temperatures could range from the low to mid or upper 30's Fahrenheit. Wind is expected to be light (moderate gusts) and primarily out of the east and south, but could also shift out of the west.
Disclaimer
This snowpack summary applies only to backcountry areas. Click here for a map of the area. This snowpack summary describes general avalanche conditions and local variations always occur. This snowpack summary expires in 48 hours unless otherwise noted.
For all your pre and après ski needs, answers to questions, event calendars, restaurant recommendations, where to stay, and all things Bend....
www.visitbend.com