THIS Avalanche Advisory EXPIRED ON Mar 12, 2020 at 7:40 pm
Avalanche Advisory published on Mar 10, 2020 at 7:40 pm
Issued by Gabe Coler
Bottom Line
Sunny days with high temperatures above freezing mean that any instabilities will be loose wet avalanches related to melting snow. Loose wet avalanches are likely to be small and located on only the warmest slopes at the warmest part of the day.
Avalanche Character 1: Loose Wet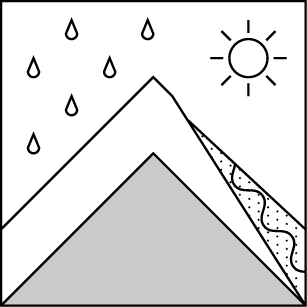 Loose wet avalanches occur when the sun and warm air melt the surface snow and cause it to loose cohesion. For the next two days expect them to be small and limited to the warmest terrain (steep south facing slopes). The likelihood of loose wet avalanches will increase slightly on Thursday due to a forecast for less wind.
Snowpack Discussion
Some locations saw up to 10 cm. of snow over the weekend. With warm temperatures and sunny skies many slopes will likely transition through melt-freeze cycles in the coming days. There was an observation reporting widespread surface hoar today (just fun to ski unless it gets buried). I found some very isolated buried surface hoar on Saturday, but it was very much an anomaly, and we don't have any persistent slab avalanche problems.
Recent Observations
Following last weekends snowfall there were reports of small loose dry avalanches and at least one D 1.5 wind slab.
Mountain Weather
The last few weeks have sure felt like "Groundhog Day". Every weekend delivers a couple of inches of snow and wintry weather, and then mid week feels more like spring with sunny days and temperatures well above freezing. This week follows the rule. Although some clouds may move through the northernmost part of our zone tonight and tomorrow, the predominant theme is mostly sunny skies and temperatures above freezing. Overnight low temperatures will drop below freezing. Wednesday will have light and moderate wind from the North-West and West. On Thursday the wind will be light from the North and West.
Disclaimer
This snowpack summary applies only to backcountry areas. Click here for a map of the area. This snowpack summary describes general avalanche conditions and local variations always occur. This snowpack summary expires in 48 hours unless otherwise noted.
For all your pre and après ski needs, answers to questions, event calendars, restaurant recommendations, where to stay, and all things Bend....
www.visitbend.com