THIS Avalanche Advisory EXPIRED ON Mar 26, 2020 at 8:33 pm
Avalanche Advisory published on Mar 24, 2020 at 8:33 pm
Issued by Gabe Coler
Bottom Line
Today shallow Wind Slabs were forming on east slopes at treeline and in the alpine. As we receive a few more inches of snow overnight these slabs will grow.
Avalanche Character 1: Wind Slab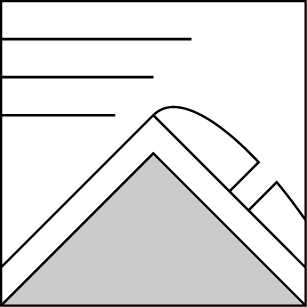 As we continue to receive new snow our Wind Slab problem will continue to grow. Over the next two days wind slabs are most likely to exist on northeast through southeast slopes at and above treeline. As always looks for Wind Slabs below ridge lines and also be wary of cross-loaded terrain. Specific slopes could produce avalanches large enough to bury or injure a skier.
Snowpack Discussion
As of this evening our region has received up to 10 cm of new snow. This new snow is falling on a variety of old snow surfaces depending predominantly on aspect. Most sunny slopes previously had a melt-freeze crust. We haven't been finding any persistent weak layers and avalanche concerns are likely limited to the new snow.
Recent Observations
Over the warm sunny weekend I heard reports of small loose wet avalanches. That problem is now a distant memory with the return of winter weather.
Mountain Weather
We'll see continued cool temperatures during the next two days. Snowfall will continue overnight tonight and we may see a few new inches by midday tomorrow. Temperatures Wednesday will be similar to today (well below freezing). Thursday will be mostly sunny and the temperature will climb to near or just above freezing. The wind will be mostly from the west tomorrow and the northwest on Thursday.
Disclaimer
This snowpack summary applies only to backcountry areas. Click here for a map of the area. This snowpack summary describes general avalanche conditions and local variations always occur. This snowpack summary expires in 48 hours unless otherwise noted.
For all your pre and après ski needs, answers to questions, event calendars, restaurant recommendations, where to stay, and all things Bend....
www.visitbend.com