THIS Avalanche Advisory EXPIRED ON Dec 8, 2019 at 4:13 pm
Avalanche Advisory published on Dec 6, 2019 at 4:13 pm
Issued by Aaron Hartz
Bottom Line
The good news is there is new snow coming in for the weekend. However, our snowpack is still thin. If you go into the backcountry beware of early season obstacles such as exposed rocks and logs. For the hearty souls braving the thin offpiste snowpack and rocky conditions in alpine and treeline terrain, the avalanche type to watch for will be wind slabs.
Avalanche Character 1: Wind Slab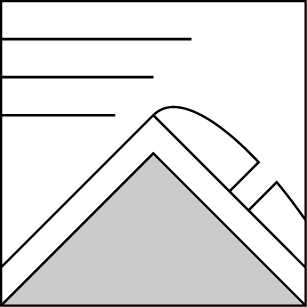 New wind slabs will likely be shallow. Look for these on lee slopes near treeline and above treeline on north, east, and southeast facing slopes. Wind slabs will be possible or even likely to trigger, but will mostly result in small avalanches. If you see snow accumulation totals of more than a few inches, and evidence of wind transported snow, then expect wind slab avalanches to be larger.
Snowpack Discussion
Our snowpack is shallow. Depth ranges from 30cm to 45cm in most of the region. Early this week in the near treeline zone, layers of rounding faceted snow above and below a crust were found about 25cm below the surface.
Slopes exposed to direct sun likely had a surface crust form sometime this week.
Recent Observations
There have been no reports of avalanche and very few reports in general.
Mountain Weather
The central Oregon mountains will likely get at least a few inches of snow over the weekend. On the high end of the forecast we could see as much as 8 or 9 inches of new snow. The wind is expected to be light ranging from the south, to west to northwest. The daytime high temperature will be in the low to mid 30's. Lower elevation areas below 6000ft may be riding the rain snow line.
Disclaimer
This snowpack summary applies only to backcountry areas. Click here for a map of the area. This snowpack summary describes general avalanche conditions and local variations always occur. This snowpack summary expires in 48 hours unless otherwise noted.
For all your pre and après ski needs, answers to questions, event calendars, restaurant recommendations, where to stay, and all things Bend....
www.visitbend.com